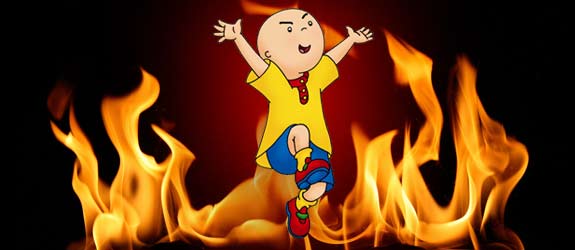 I am a lover of many genres and styles of cartoons. My love affair with them began immediately after my womb eviction and while perhaps not as diverse in selection as I'd liked them to be, the absorption of all those years of animated shows has made me into the man I am today.
And so, it is with a heavy heart and timid voice, that I must tell you…
OH, WHO AM I KIDDING?
I LOATHE CAILLOU.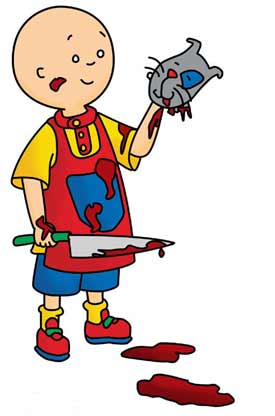 Caillou seemed familiar to me. The Bay Harbor Butcher, perhaps?
For those who don't have a permanent black mark on their souls from watching Caillou, it's a cartoon show centered around an insipid four-year old Canadian kid with a sister named Rosie, two parents without any recognizable personality traits and a cat named Gilbert. No relation to "Gilbert" from Revenge of the Nerds or What's Eating Gilbert Grape.
We follow this pseudo-Charlie-Brown as he whines, kvetches, barks orders at people, hurts himself, throws tantrums, causes trouble and generally shares his self-centered, pathetic, purposeless outlook on life to thousands of kids all over the world.
But let's take a step back and leave the central character alone for the moment.
What is with the permanent acid-trip vignettes? I've never watched Yo Gabba Gabba but I have a sneaking suspicion that one of the monsters from that show is dealing LSD to the creators of Caillou. Are we just permanently in a dream? Does the narrator have cataracts? Are we just seeing things this way because he's passed on and this is a replay of his life?
Caillou is purported to mean "pebble" or "bald head" in French and they apparently made him that way because HE REPRESENTS ALL CHILDREN. Do you know tons of 4-year olds without hair? I find it to be the first thing people talk about. And it's not that I find his appearance abhorrent, I know plenty of bald-headed kids that are just adorable as hell, but with his constant psycho-giggles and the petulant behavior, I can't have Finn watch it. Honestly, I think this whine-monkey needs a to be taught that sulking his way through his pockmarked existence (I can hear him screeching now, "GILLLLLLLBBBBBBERRRRRTTT") is unacceptable.
Full disclosure, we watched it with Finn in the early days, unaware to his "charms" but after a few episodes we got the picture pretty quickly. Avara and I decided we weren't going to show it to him anymore and found other great educational programming to supplant Whineus McShutface. We told Finn that the TV was broken when he asked about him more recently, but his grandma decided to play a little bit of it for him over Memorial Day this past weekend. I was taking a shower. I came into the room and my eyes went wide. I somehow managed to use the jaws of life (AKA a train set that we'd set up in the garage) to pry him away.
Anyway, consider this a Public Service Announcement about Caillou's bad influence. Don't let your kids watch Caillou unless you want a whiney, entitled, clingy little person to lay waste to your household.
–
Facebook
It's not a tiny, annoying toddler who will beat you down with talking. Yes it is.
Get some learnage going…
Click that link for our Instructional Diagrams!