[Seeing his mother dying her hair] "Mommy… does you have poop on you head?"
-Lucas (2012, 2 years old)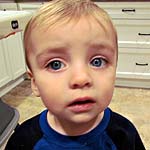 Uhhhhhhh…
To a kid: if it walks like a duck, quacks like a duck, looks like a duck, it must be a duck. So if it looks like poop…
Yeah, Lizzie was wearing a plastic cap filled with brown henna paste on her head. Lucas was wearing a "have you lost every square inch of your mind" kind of expression on his face.

–
My Kid Just Said Facebook Page
This is where YOU can post YOUR kid's quotes.