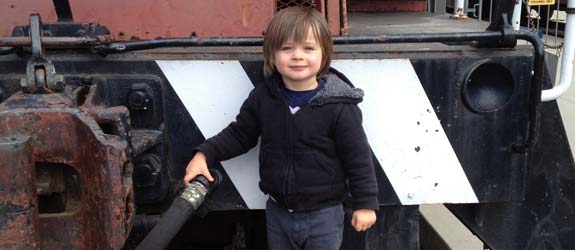 Toddlers can take a huge toll on your patience, resources and time. The list of tough lessons and experiences is endless: possessiveness, tantrums, food pickiness, lack of vocabulary, etc. And, you might even get to a point of asking the rough questions, "What good is a toddler having around? What is the exact purpose of toddlerhood?"
Well, I'm here to tell you that quite aside from the half-hearted 'thank-you's' and sloppy kisses that toddlers dole out, they can also be of great help to adults.



1. Torture Device

Forget waterboarding. Nevermind kneecapping. Put away the Barbara Streisand and Yoko Ono duets. You've got a tiny "enhanced interrogation technique" of your own who rivals the Spanish Inquisition. Think about it. They can or do employ the following forms of torture: intimidation, shaming, shunning, idle threats, sleep deprivation, disfigurement, hair-pulling, beatings, and much more. And yes, that is a photo of me and my brother.





2. Thuglife!

I know what you're thinking. How could a toddler possibly act like a mafia heavy? Well, you're wrong. I've seen a toddler bring a man to his knees with one punch. Hell, I've been that man. I've also seen a little girl run a playground like her own personal mafia organization. Toddlers will stop at nothing to get what they want and what better job for them than learning the "family business." For the record, Scarface would shit his pants taking care of a toddler.





3. Lawyering Up

Me: "Do you like that blue train?"
Finn: "Das not bluuue das reddd."
Me: "Actually, Finn, that's blue."
Finn: "No, Dada. Das red. Finney is big boy."
That's an actual conversation and sounds like 95% of those I have with him. Forget cross examinations, they rely on the diplomatic immunity of "claiming" they're just a toddler. And NO ONE can match their repetitive lines of questioning or statements.





4. A Personal Trainer

If only we could harness the energy of these tiny calorie-burners. Running, leaping, lifting, lunging, and twisting are daily routines in our household. If only I slept and ate better… Then I would be rippedest dude evar. If you're into that sort of thing. Who stole my donut?





5. Demolition Team

Dear Immovable Object,
Meet Unstoppable Force.
Love, All Parents Everywhere
Yeah, kids know how to take things apart, rip stuff to shreds, blow things up, bend stuff the wrong way, chew on the unchewable and generally wreak havoc on your "nice things." Need a kitchen remodeled? Start with a toddler wrecking crew.

COLLECT THEM ALL!
Do you guys have any more uses for these tots? Post yours in the comments below!
–
That's very PINTERESTING…
Even though a horrible pun was used, oblige us and look at our Male-Friendly Pinterest page.
Remember that post?
Where Charlie realized he was an a-hole? Yeah, me neither. He probably deleted it.

Photo credits:
Thuglife Toddler, Lawyer, Demo Team & Trainer