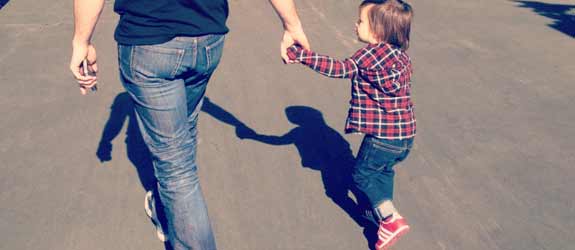 I wrote this a few months ago but needed some time to let things play out a bit. We seem to be out of the storm, for now, but it still stands as a snapshot of my experience. I hope other parents read it knowing someone else felt conflicted about discipline, diagnosis and decision-making. We are now on the verge of having a "threenager" ourselves.
The call finally came in. My son is biting kids.
It's a strange position to be in, knowing that your son is taking out his frustrations on others in ways that were more acceptable during the Neolithic era.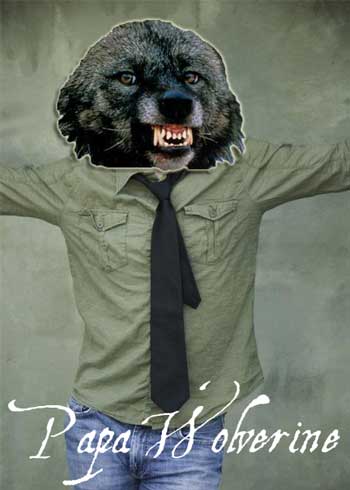 A wolverine, for those who don't know, is a Tasmanian Devil/rabid dog combo.
My first reaction, after the shock, was the standard, "Who's going to die?" "Well, what did those kids do to him?" We've all heard of the Mother Bear mentality. I guess "Honey Badger" is the new version of that for Moms. But have you met Papa Wolverine? That's right. Much like the wolverine, fathers can embody the rage of an animal that can literally take out a grizzly bear. We crazy.
But rather than jump down someone's throat and act like the dad whose kid is perfect, I somehow decided to be rational and asked questions about the circumstances. I wanted to know more. It just didn't mesh with the composition of who I experienced my son to be. Sure, he threw fits and had rough days. He's smacked me on occasion and I've let him know it's unacceptable to hit someone who is helping him. I was the Polite Wolverine.
They suggested we hire someone for the next week to be there with him, providing more personal attention and my response to that, again in my head to save everyone the grief, 'Are you understaffed or something?' Was it unreasonable of me to think that?
But then they started in with the 'now, we haven't seen any indications of Aspbergers or those types of issues'…
Oh, man. I have many friends with kids who have varying forms of autism. I can't imagine how it would feel to get a diagnosis like that. Some have told me it felt like a weight was lifted off their shoulders, knowing that there is someone who understood and could help their child, like a a door had opened. Others felt a strange imprisonment by the terms and classifications, that their child was now thrust into a categorical system that predicted a future for them and left little room for deviation.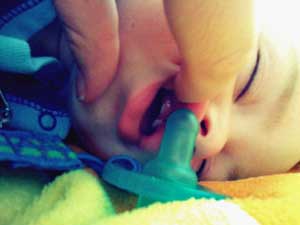 Back when Finn's vampire teeth came in…
I have found that systems of diagnosis and education to be incredibly difficult where they are most generalized. The one-size fits all approach excises our individuality. Hearing that my son does or does not show signs of behavioral problems put me a little off-kilter realizing that he'd already been thrust into a system of names and numbers and labels. Maybe my protestations also come from my own history of elders deciding what I was to them.
I told Andy about it a bit. He then texted me back, "Just be glad he's not a numb lamb. I'd rather sire wolves than lambs. Sometimes I hang onto that thought thought like a castaway to a rock on a jagged stormy shore."
So, we're going to meet with the school's teachers and its administrator. I have many questions for them. Is he too young for school? What are the circumstances of his transgressions? What are the possibly underlying causes of these things? I have a laundry list and whether I get them all answered or not, I hope to find enough details that I can at least apply my comprehension of my son as best as I can.
But hey, if they gave me a label or a diagnosis, it's not the end of the world. If they told me he was a cannibal, I'd just have to find the right people to feed him. 😉
Food for thought.
–
My First Blog Post
Looks like my writing only got worse after…
Follow Us on Facebook
OR I will diagnose you as incompetent and lazy.