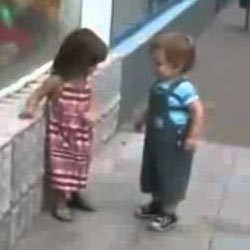 There are certain viral videos that encapsulate aspects of my whole life.
This one symbolizes every attempt I've ever made at relationships with the fairer sex… …. …. until my wife.
I think I asked for a girl's number once in my whole life. I wasn't the popular guy but I doted on the girls I liked.
So, let's review the similarities between Toddler Suave and myself:
Full-body hugs? Check.
Breakdancing? Check.
Overbearing sweetness? Check.
Amazing overalls? TRIPLE CHECK.
I could be the misogynist here and make some comments about just how badly the lady little treats this fine, young man, but women are pretty great. Maybe this kid needs to get a job, buy a sweet ride (Power Wheels, perhaps?) and learn some Karate, proving himself a worthy love interest?
It really is a miracle someone agreed to be married to me and have a baby.
Good thing I am versed in the dark arts of hypnotic suggestion… (when I snap my fingers you will be in love with me and read my blog every day… SNAP)
–
Instructional Diagrams
BUY NOW! LEARN THE SECRETS OF WOMEN, PARENTING & MAKING LOTS OF MONEY WITH OUR PATENTED SYSTEMS!*

*There are no actual systems. We said that so you would click a link to funny things. Why are you reading the fine print? You never read fine print, especially in contracts with Apple or software.