"Say Happy Muhver Day!"
-Lucas (2012, almost 3 years old)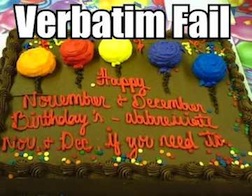 Being literal is not the same as being literate, but it's funny.
Facepalm. He repeated exactly what I just whispered to him. His smile was sooooo big tho! So was hers. Precious.
Even though he chewed it up a bit, I was proud he got out the word "Mother's" because he calls her Mommy. And his inclusion of my instruction to "Say" was quite simply hilarious and reminded me of all the amazing verbatim FAILs I've seen on the interwebs.
Happy day after Mother's Day, folks!

–
My Kid Just Said Facebook Page
This is where YOU can post YOUR kid's quotes.