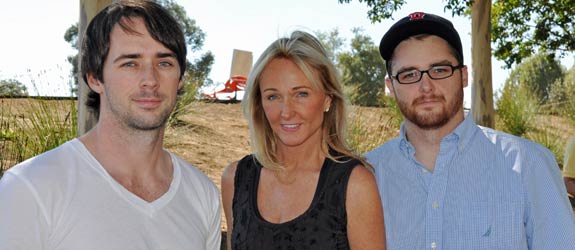 Today is my mother's birthday.
She has put up with a lot between raising me and my brother. I would love it if you left a comment wishing her a happy birthday, but also, tell her what your mother means to you. Then, if you feel like sharing this post around it will make me look way cooler than I am. (I need all the help I can get)
Think of it as practice for Mother's Day.

Please do it, or I won't have a gift for my mom.
Just kidding. No, I'm not.
I remember I was crying before bed one night and she asked me what was wrong. After swiping my snot and gasping back those hiccup-breaths, I told her that I knew one day she would die, and I never wanted her to leave me. I was 12. She told me something that will always stick with me and will probably be my answer, should Finn ever brave the question:
"Honey, I have so much more work left to do in this life. I'm not going anywhere. You need to go bed."
And I did.
So Mom, please take a break and enjoy yourself. But you're still not allowed to die. I love you.
Love,
Your Son
(the good one)
–
Our Google + Page
Join us there so we can 'plus one' you. We promise that's not gross.
Our Facebook Page
It's like your birthday every day there. Promise.