So, listen…
We know you're "going to shop" today for Black Friday and also "probably shop" on Monday using the Internet, whatever that is, for Cyber Monday. Holiday shopping. Yay!
But here's the deal… We wanted to do a post where you:
1. Laugh.
2. See cool stuff.
3. Buy cool/weird stuff.
4. Could support us at the same time.
br>
Obviously, we aren't selling ads or sleeping on beds filled with $100 dollar bills. So, instead, maybe you want to click a few of these links, if you're to going to buy stuff and be all consumery, and perhaps help two dads. We only have 7 jobs between the two of us.
If you don't, we won't cry about it, but we'd love it if you would…
First, off maybe you could shop at our merch store?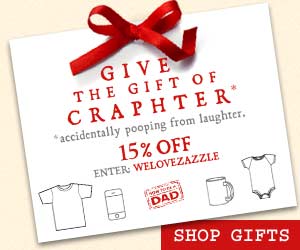 Get a 15% discount there by using the coupon code "WELOVEZAZZLE".
Without further ABLAB, here's let's start with some cool stuff:
1. DIY Ice Cream Maker
America's the most obese country? So, what. Let's party with some soft-serve ice cream at home. At least that way I'll get a perfect balance of vanilla and chocolate. Or just chocolate for that matter. And for that price? Someone left off a zero somewheres and I'm not telling. Seriously. I need this. Someone buy it for me. Right now.
Buy the Cuisinart ICE-45 Mix It In Soft Serve 1-1/2-Quart Ice-Cream Maker HERE!
2. Handerpants
This might be in the "weird" category, but you need underpants for your hands. Stocking stuffer? Yep. Amazing invention. Double yep. Don't question why, just go with it for a second. Underpants support a very important area. Your hands are also important. Ergo… You need underwear for your hands. Just buy them. Nuff said. Right?
Buy Accoutrements Handerpants here!
3. Nintendo Controller Wallet
Call us nerds. Or nostalgic. Call us Nintendo gamers. This wallet is rad. We all need wallets to carry the $0's of dollars we have and ID cards we're required to use, on our person. A nintendo wallet reminds us that we're only children once but we can be immature the rest of our lives. And that's good enough for me.
Buy a Nintendo – Controller Bi-fold Wallet here!
And, now, the CRAZY SH#T:
1. Wolf Urine
This product is 100% real urine to create the illusion of predators in any place you want… If only it worked on toddlers, I might take a shower with the stuff. I need all the protection I can get from these crazy guys. Apparently, you can't ship it to California but, hey, we don't need it right?
Buy 32 oz of Wolf Urine here!
2. Canned Unicorn Meat
Talk about stocking stuffer! It looks like a can of spam. The can has rainbows and a tag line "Magic in every bite!". Frightened yet? Let's keep going. Voldemort would've loved this thing, but, alas, there's no actual meat in the can. It's just a dismembered stuffed unicorn, which by our estimation, could be equally creepy in some respects. ::CHOKING HAZARD FOR KIDS UNDER 3 YEARS OLD!::
Pick up some Canned Unicorn Meat
3. Glow-in-the-Dark Toilet Paper
Don't even ask us how this works. We're not scientists. Nor are we wizards. Unless you count the wizardry of getting our wives to marry us. We certainly all could use this. How many times have you used a restroom in your home and not wanted to turn on that horrible fan-light and wake up your child(ren)? Too many to count, we're guessing. Problem solved. Except then your bum might be useful as a flashlight as well.
Buy Glow in the Dark Toilet Roll here!