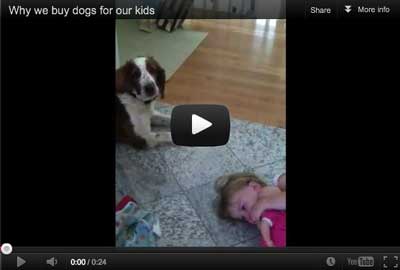 I just have one question: Is this dog available for hire?


Some people cringe at the sound of a kid crying. Even if it isn't theirs, sometimes especially if it's theirs. Some people can't stand the raucous symphony of dogs barking or howling. They'll do anything. Yes. Sometimes bribing is used to make the madness stop. Maybe a steak thrown into the neighbors yard. Someone has to have resorted to this. Hopefully not filet valium, but I wouldn't put it past anyone. Or for a kid, maybe a lollipop or a toy or any possible thing you can lay your hands on that will turn the faucet off on the waterworks.
The sun, moon and stars are always disco dancing around, but every once in a while they get together in a celestial chorus line. And that's when you get this perfect harmony. A dog's howling that shuts a kid's tantrum up. Hey! What's that? That's the sound of "man's best friend" soaring up to BFF status.
How far along is cloning again?
–
Our Pinterest boards are really pretty…
…if by "pretty" you mean immature/ridiculous.
Learn some stuff from our Instructional Diagrams
Just kidding.