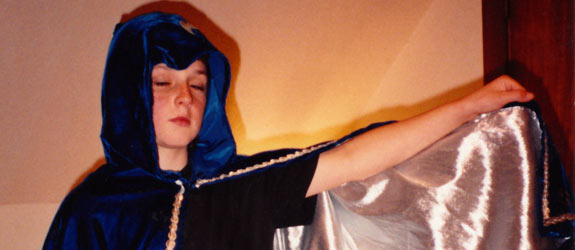 It's no secret that Halloween is a favorite holiday for me and Andy. Just look at the top of our blog (header) today for Pumpkinsakes. Maybe it's the magical air in a Halloween Night sky with a moon shrouded by ominous clouds. Maybe it's the majesty of egging and toilet paper confetti. Or, perhaps, just being someone else for a night brings back the ecstasy of all the sugar comas. I can remember almost every costume I've ever been. I was the Wolfman over 700 times (yes, I am that old).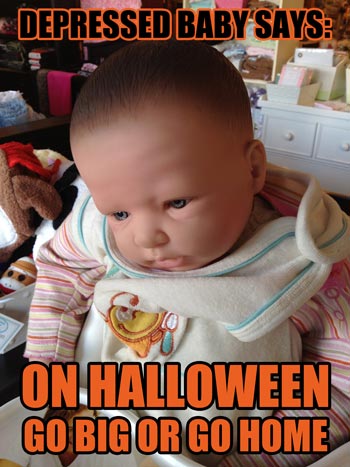 Depressed Baby knows all. Listen up.
Halloween was, for me, a night with friends in costume I wished would last forever. Sure, we'd heard the vague legends of neighborhoods giving out $5.00 bills and King-Sized Snickers bars, like a City of Gold made of candy, but those were far off lands. So, we devised highly strategic routes through our own neighborhoods, wending and winding through every nook of every street to collect our candy tithe. We knew we needed to work for our treasure. It was the only way to ensure we got a massive bounty.
So imagine my horror when I hear the newest generation of kids is ruining Halloween. A few friends and relatives said their kids spend only HALF AN HOUR working the streets because the kids were "bored" or "tired." What the hell has happened to society? They tell me that kids are bussed into the richest neighborhoods to get their big candy haul as fast as they can and then run off only 20 minutes later.
It's a sugar bailout. It's like GRAND THEFT SNICKERS.
Now, I swore to myself that I'd never utter the words: "Back in my day." But, guess what? BACK IN MY DAY, Halloween was a career. I could collect as much as 2-3 pillowcases full of loot in my prime. We were professionals. Olympic athletes of the confection collection. T-O-T operations lasted upwards of 4-5 hours a night. If I didn't get at least 10 whole candy bars, I felt like my expedition hadn't been successful. At the end of the night, we'd actually place our bags on scales to see who won. We'd trade up for better candy between ourselves. We had our own little economy. It was glorious.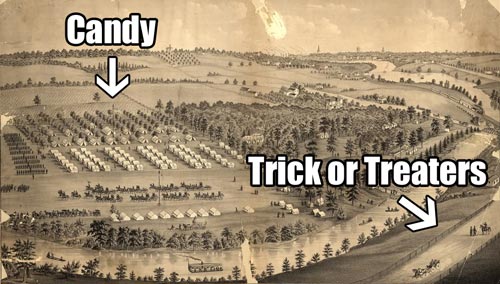 The holiday was as much about community as much as it was about the candy back then… though candy definitely won the popularity contest. We connected with other groups of friends and visited houses of parents we'd known for years. As I grew older, I remember thinking that I never wanted to stop trick or treating. I never wanted to be too cool for dressing up and get into "older kid" shenanigans. But somewhere between 13 and 14 years old, it happened. I became too self-absorbed to even realize it. We still got dressed up but only just enough by that point. Worries about appearances had taken over.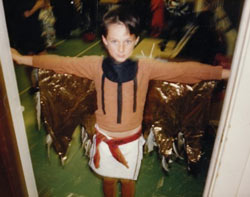 Betcha can't guess what I am… Can ya?
What kind of memories can be made in 30 minutes of being driven around by your parents? I thought we were growing free-range children here. I remember counting down the years until I didn't NEED to be accompanied anymore.
Perhaps, this is the real reason our economy sucks the big Butterfinger. Kids learn they can quit when they're tired. They learn to do things the easy way, instead of milking the night for Milky Ways. When I was a kid we were chased by drunk gang members after one of our crew, a vampire of course, shot off at the mouth. We ran into a park and watched as their Cadillac El Dorado circled and circled. We sat in the bushes munching on candy to stay sharp. It was exhilarating. When the coast was clear, we made our way back onto our candy route. We were on a mission.
Have you witness this childhood-cheating lifestyle choice? Do you drive your kids into the richer neighborhoods? Why? Safety?
Please, help your kids have some adventures. Tell them they can't come home until they've managed to bag at least 5 pounds of sugar spoils. Tell them it's the American way. Or something. There just might be a a bag of M&M's in it for you.
HALLY HAPPOWEEN!
How do your kids roll on Halloween night?
I/We walk them around and they poop out after a short time. (62%, 50 Votes)
Other. (Write your answer in a comment below) (15%, 12 Votes)
They're on their own, scavenging candy like little explorers. (14%, 11 Votes)
I/We drive them around, "Driving Ms. Daisy" style. (7%, 6 Votes)
They don't celebrate Halloween. They're insane. (2%, 2 Votes)
Total Voters: 81

Loading ...