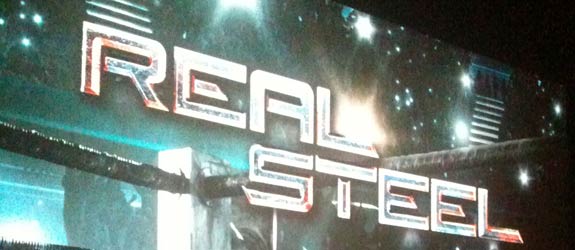 I've come to a crossroads in my life, standing at the intersection of what feels like 100 different highways with as many signs all telling me that they are True North. It's time for some re-evaluation. So, what does one do when one lives in Los Angeles and needs a moment of reflection? They go to a major movie premiere, of course, put on by one of the largest media producers on Earth with all the bells and whistles.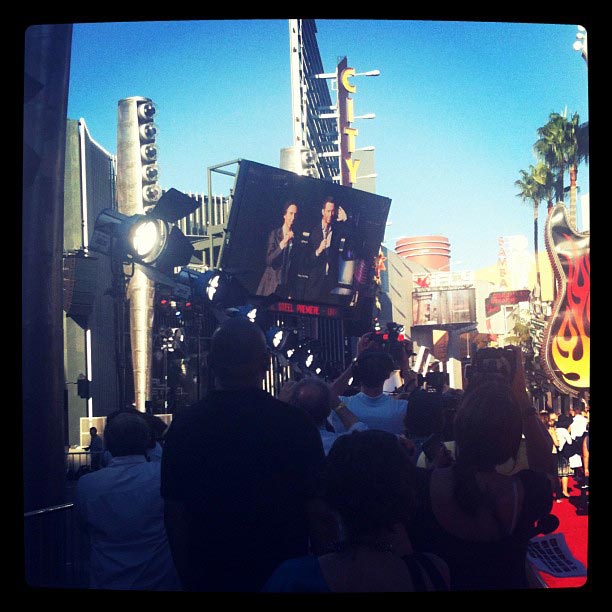 I thought I heard Hugh say, "I love HowToBeADad.com!"
Last night, I went to a movie premiere for Real Steel, a new movie coming out this week by Dreamworks with Hugh Jackman (X-Men, The Prestige), Evangeline Lilly (Lost) and a new kid, Dakota Goyo. Like many other sci-fi/futuristic blockbusters, the trailers made it look like one of those visual juggernauts whose sole purpose is to melt your brain by way of your eye holes. But I went there in search of something and funnily enough, I feel like I'm on the verge of it because of this movie.
I got my passes and was ready to head straight inside the theater, on the separate anti-celebrity walkway of the red carpet, when I noticed an indoor skydiving place I had been to several times before. I said to myself, 'You know what? It's not your movie. Who gives a crap? Go ahead and do it." So I did. I changed out of my "nice clothes" (read: jeans and a shirt), put on a t-shirt, jumped into that tube of propelled air and floated for a while. It was a great primer, even though my hair looked like it was styled by a hurricane, for walking past the screaming cameramen who definitely weren't screaming my name.
If I hadn't made this detail obsessively clear by now, I am an actor by trade — quite in addition to my many (few) facets of genius (dilettantism). I moved here when I was 19 with a dream in one hand and no money in the other. I migrated to the Land of Haze specifically to study acting and dash dreams of being mediocre in some other profession. I've made great films, been on TV and appeared in many commercials during my tenure. But I haven't "made it", if that makes sense. There's a part of me that wants to give up on childish aspirations and still another that drives me toward a road less traveled.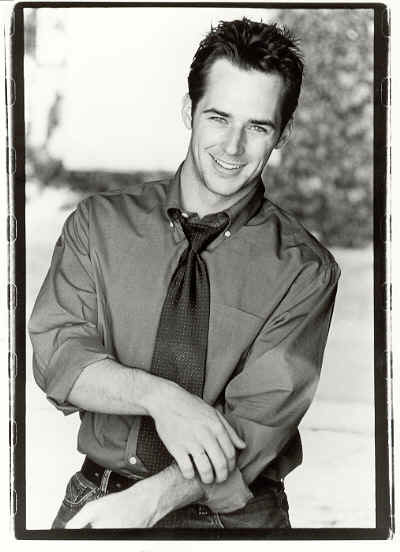 My first headshot. Business whipping boy. Joke's on me.
As I walked with my pass in hand, watching the flash-flash of cameras blind the ambulant actors, I almost tripped on my own self-pity. I wanted to be them for so long, practically growing up here in Los Angeles into the semi-adult I am now. I have friends who've made it big and witnessed in horror as others have squandered great opportunities. It's hard to say why some people succeed. There are plenty of TV shows pretending to know the answer to that. Don't believe them.
I forced myself keep walking that carpet next to The Carpet. I knew if I stopped, I would turn back. But I made it inside and wedged myself in my seat, 14 buckets of popcorn in my lap.
Note to readers: I don't know if you are like this, but I can't pass up free food or snacks. I'm like a starved animal. Put it there and it's mine, all of it, and you can't have any. If you meet me, be aware of this. You could lose a hand.
I sat down for the next two hours and watched the story of a man confused by his place in life, fighting himself to get where he wanted. I watched a son who clearly knew what he wanted for his own future with no guidance from his father. And I watched the two join together to fight and conquer metaphorical and literal opponents including their own personal voids, toward an end that was both a victory and failure. I saw, as most of us do, myself in the art of another.
In short, Real Steel was a raucous movie with some glamorous robot violence but it was still a family film, as Hugh Jackman had put it himself days earlier at a press conference about the film. I even got to shake the man's hand, in between his daughter motioning to him to bend down to tell him something private. He never waved her away. The actor clearly had his priorities defined.
I feel as though I'm on the same journey, the same road to whereverthehell. But it's time I stop trying to live like other people, other examples of how it was ALREADY done. Why should I define myself, as Jack's character did, so precisely and cut out the possibilities that could be present but not yet revealed through my prejudices? Why am I comparing myself ALL THE TIME? How about knowing myself but being ready to be something better?
Anyone else have this going on or am I the only one walking this long and dusty road?
[ A trailer for a film, I co-wrote, produced and acted in… It's called 3 Things. ]