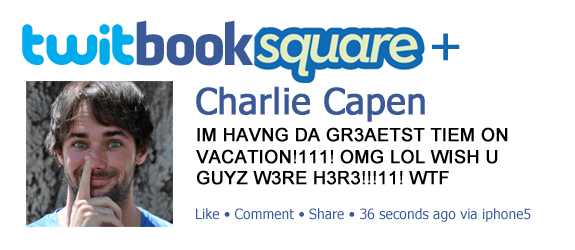 I know we just did an INSTRUCTIONAL DIAGRAM on this, but I think I've figured out the purpose for "social" networking websites and I wanted to get your opinion on it.
Hour after hour, we busily, mindlessly update our "statuses" and check into "locations" and tweet our twitters like some sort of video game that we'll never finish. We, the masses, share things that wouldn't even be handed the privilege of being scrawled on a bathroom wall. But that's not what I think social networking, in its essence, was meant to do…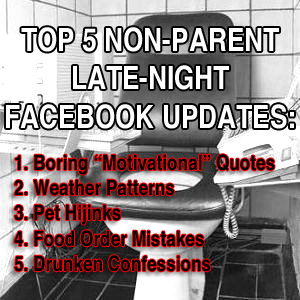 Compiled by HTBAD Insomniacs Unlimited™, "We aim to shame!"
What I Think Social Networks Are For
I think it's so that parents, who have to stay at home with their children, can do one of three things:
A.Politely remark to their partner while looking at Facebook, "Hey, guess what Joe is doing tonight?" LOUD SIGH.

B. Harshly snap at their partner while looking at Twitter, "Joe, is such an a-hole. He goes out partying every night. Pretty sure he's an alcoholic."

C. Remark to their partner under their breath, "Wow, Joe sure does travel a lot. Ohhh looook! Guess what, he's going on vacation from the vacation he's already on… again."
All of the above commentary might have happened in my household. If it did, I'd probably err on the side of unmitigated jealousy and mild irritation/snarkitude (Answer B). It's like the whole purpose of these real-time updates is to push them into the faces of other people who can't visit or do all those things. Look how special I am. Read how loved I feel. Gaze upon the most amazing picture of the most incredible sight you've ever witnessed. You know, the one that you actually haven't, aren't and won't witness.
Here are some paraphrased examples of these kinds of updates:
"Look how happy and fulfilled I am! TGIM! (Thank God I'm Me)"
"Can't wait to get off work so I can take my 12th vacation in the past 6 months!"
"Sooooo tired. LOL! Isn't it funny how wiped out you are when you get 13 hours of sleep?"
"Ohmygod! I just ran into [insert name of your favorite celebrity] at the [insert name of exclusive restaurant/bar/club/private island] and got offered a job paying [insert ridiculous amount of money] to pretty much just hang out!"
We've all seen the "where's the dislike button?" comment about a billion times, but I want to know where the STFU button is.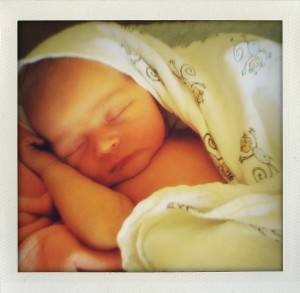 Look at him. He's like Mother Theresa but cuter.
Then again, my baby smiles a lot and I have many pictures of him smiling on my social appendages. Am I forcing others to see my happiest moments with my son? Does that mean I'm just "mommyjacking" the social conversation?
I can remember when I would look at new parents on my networks and think about how obsessed they were with their little wormy, smushed-face baby. The overwhelming "oh, how cutes" would make my teeth rot. And then it happened to me. I was infected by the same disease. My son is the most beautiful child I've ever laid eyes on. Does that make me a hypocrite?
Well, deal with it, slackers. Go have some kids. I'll shut up, if you do.