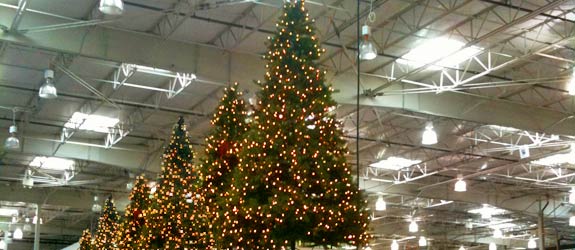 It's September in Los Angeles and that means one thing: the seasons will change from Summer to, well… more Summer.
This year, I'm anxious to see the customary changing of the air filters and people starting to bundle up in t-shirts instead of tank-tops. Keeping track of which month we're in, to be fair, isn't easy anymore though. It's getting more and more confusing even if you have a phone that syncs with your computer that syncs with your iPad that syncs with your email. No matter where you live. Between weather patterns that seem to come from a roulette wheel, a Bieber-fever-pitch in politics and the defeatist demeanor of the masses, who could tell. But, more importantly, I call this peculiarity to your attention because there is a war being fought in almost every township that no one is paying attention to and I feel it's high time we call attention to it.
WHATCHOO TALKIN 'BOUT WILLIS?
Last week, I was walking in Costco or, as I call it, "Dante's 8th Level of Hell." I've almost perfected the art of dodging the open-mouthed, wandering cattle there but, as usual, I began to reach a near homicidal rage (imagining the installation of Roman Gladiator blades on the wheels of my oversized cart isn't THAT crazy). We needed industrial amounts of toilet paper. Don't ask why. Four hundred rolls of TP is more or less the American Dream now, right? It was there, passing the towering pillars of cheese, that I bore witness to a horrible site. It was like a terrifying sideshow.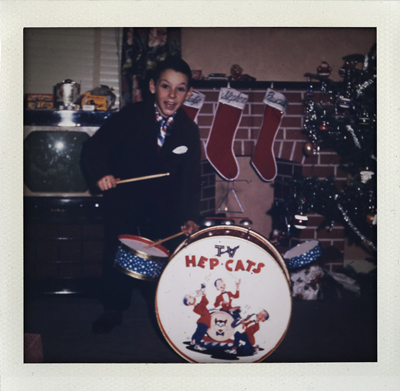 My dad on Christmas. I come from a long line of excitable kids.
There was a f*cking Christmas tree.
I can't imagine how a person of Jewish or Muslim heritage must feel, being edged out by this behemoth display. As a Christmas spectator, I'm having a hard enough time dealing with it. But for them? Couldn't this easily seem like fodder for a reverse crusade?
Don't get me wrong. I love Christmas. I love what it stands for (or should to those who are Scrooge-like). People should open their hearts to others on as many calendar days as possible, and if it's this one day then so be it. That's a truly remarkable, spiritual feeling, seeing it all unfold.
However, at the pace we're running, it's only a matter time before we have New Year's Eve, Valentine's Day and then CHRISTMAS all over again. Yikes. What an alcoholic stew that would be. I call "bullsh*t." What about NATIONAL PIZZA MONTH (yep, actually exists)? What about Thanksgiving, man? What about my favorite holiday, HALLOWEEN? You can't take Halloween away from me! That's when I decided, enough is enough….
HALLOWED EVENING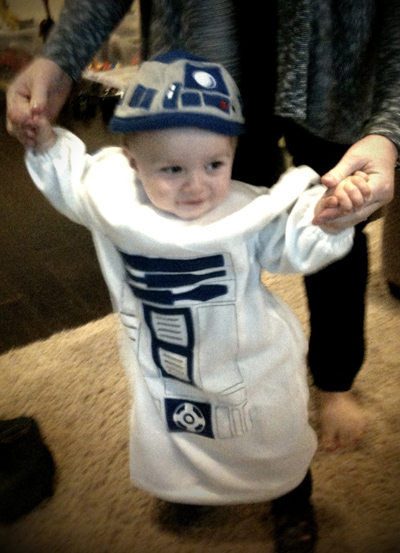 "This little droid. I think he's searching for his former master."
Halloween is a particularly spectacular tradition for me and I plan on indoctrinating my son in its magnificent pageantry as early as possible. From those nights, so many things transpired for me. Homemade costumes. Experiences of haunted shadows. They'll permeate my being forever. Where would we all be without those memories?
Now, Halloween might not be your cup of tea for whatever reason, but I'm telling you there are quite a few benefits that come from MY favorite night of the year.
Dressing up as a kid you learned about the necessity of candy currency. We were addicted and everyone on every block was supplying. We traded the weaker candy for the greater candy and targeted the right houses and neighborhoods for ultimate conquest. It was a college course in economics, supply and demand. But it was more than that. It was adventure.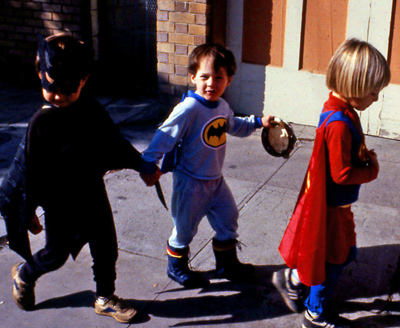 That's right. I was a frigging crime fighter back in the 1980's even in preschool.
After re-reading that last paragraph, I know I came off a bit like a hardcore capitalist with kill-or-be-killed propaganda. Sorry about that, communists. 😉 But to the hardcore capitalists reading this, I have to say go ahead and throw the "pagan" name tag on Halloween, the holiday of holidays. My only reply: this is the last unregulated commerce left on Earth. If I get a snickers out of it, you can kiss my ass.
Or, maybe to be equitable, what if we combined the 31st with Christmas and everyone ran around giving each other presents in a sort of melee of presents and doorbells and bags filled with gifts and candy. That works for me.
That would make more sense than a ridiculous looking symbolic tree in September. Whose lights I unplugged at a major wholesale store in my final act of defiance.