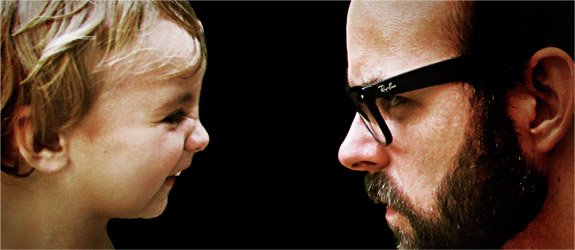 It all started out so subtly that it was probably already happening and we didn't even notice. A sad face from Lucas. A pissed off frown and a pouty lip. Maybe we just wrote it off to some intense toddler farting in the beginning.
Soon though, a pretty recognizable pattern started forming. I'd give Lizzie a long, romantic "thank God we haven't killed ourselves or each other" type of hug and Lucas would shuffle in and shout, "No!"
He'd pull my leg to break us apart and Lizzie would offer up, "Awwww. He just wants to play with you, he hasn't seen you all day." And that seemed to make sense, he hadn't seen me all day and was delighted to play with me.
Then it started getting more obvious.
My wife and I would clasp hands in the car and then, inexplicably, Lucas was bellyaching about something. His phrase recently for lodging a complaint is: "I don't!" Which is essentially an economical and g-rated form of "I don't f##king like that!" or "I don't f##king want to do what you a##holes are trying to make me do!" Anyways, not getting it, we'd try turning off the A/C, then the radio, getting him a fallen toy. And then we realized. Our hands. He didn't want us to hold hands. What!?!
We're finally on to him.
Now we're on the look out, and sure enough, every time we kiss at length, hold hands, hug or cuddle, the little guy goes berserk. "I don't! I don't! No that! No thaaaaat!" Okay, it's weird, but tolerable. But if we continue… the guy goes to straight to 11 on the volume dial.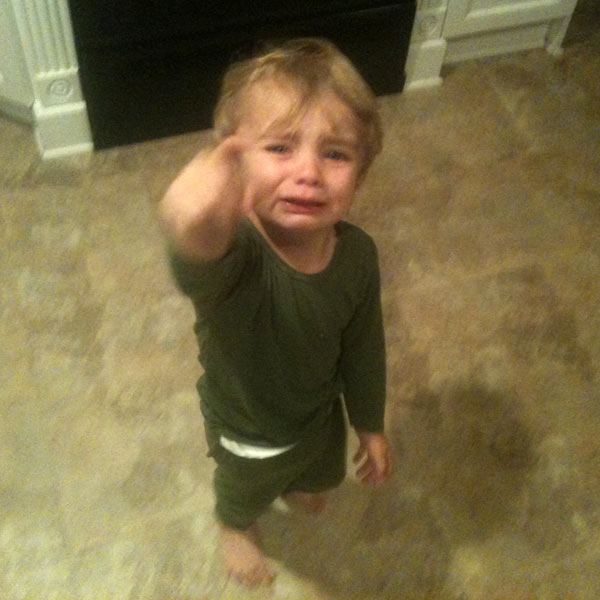 Nothing quite so romantic as holding your wife in your arms while your child serenades the two of you with Get the Hell Off My Mommy! (off of Justin Bieber's unreleased Japanese import single)
I'm a-okay with the concept of a kid being grossed out by mommy and daddy making nasty. We all are. But any affection? Fully clothed? Craziness! This is like some kind of jealousy thing. Or affection hoarding.
The little lad loves me to pieces. I'm a friggin' walking stuffed animal, cartoon and video game rolled into one human being for him. No surprise. And he loves his mom so much he ties himself to her apron strings with knots Houdini couldn't escape with a bowie knife and a jar of lard. He loves us. Individually. But apparently he doesn't like any horning in on the whole love thing, us sharing any of it with each other.
An imaginary showdown.
Let's take a flight of fancy on a dirigible of delusion. Using only a keyboard and the renewable energy of my imagination, I'll detail the conversation Lucas and I would have if he were a little further along in the language and abstract concepts departments…
Lucas: "You can't have her. She's mine!"
Me: "Rent a clue! According to the "I saw her first" clause, I win this case by default, knee-biter!"
Lucas: "M'yeahokay. Who owns her boobs and who does she see naked more often, old man?"
Me: "No fair! That's apples and oranges! Apples and gross oranges! I'm her husband!"
Lucas: "I'm her son! Last time I checked, you can't divorce a son."
Me: "Oooooo! I made you. I can unmake you, boy."
Lucas: "I will cut you."
And he would, too. He's got little razors for nails and some of his things are surprisingly sharp-edged for children's toys.
Yeah yeah yeah. I don't need any psycho babble to tell me it's just a phase. I'm not worried at all. I'm annoyed. I pay my dues, I've at least got the right to be annoyed when I can't hug my wife without Luciano Pavarotti's tear ducts spontaneously combusting with radioactive lava.
—
A little less conversation… a little more Diagrams.
Didn't get enough? Read more of our Notebook posts. We'll teach you the meaning of enough.