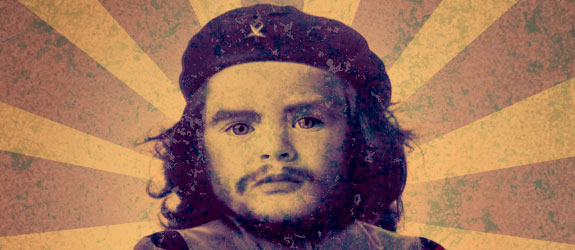 My son is finally reaching that age when, if he demands something it must be completed right that very instant. If he doesn't get exactly what he wants, how he wants it — well, he might just burn the whole effing place to the ground. By that I mean, he won't hesitate to take a knife to the throat of an unprotected stuffed animal nearby and starve himself or piss on the carpet to prove a point. He can be completely irrational, well beyond simply bargaining for what he wants by force. He's now getting vindictive. He's stubbornness personified.
I think I just described myself. Maybe I'm still two years old as well. Oops.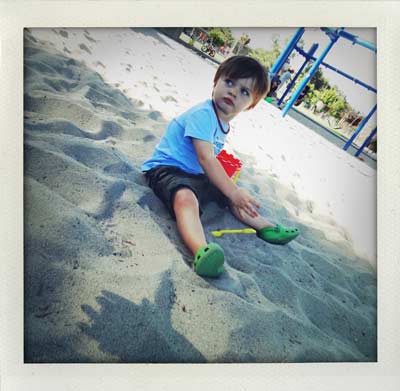 "You heard me. I want him dead. He stole my shovel."
My little monkey has gone fully rogue. His high-pitched shrieks used to be alarm sounds, but now they're negotiations. His backhands and kicks used to be flailing attempts at learning balance. Now, they've become deathblows. For all intents and porpoises, he's transformed into a sort of maligned despot.
But more to the point, he doesn't have the exact words or phrasing to get what he needs, when he needs it, and that may be why he has come to be known as a little toddler terrorist in my house. He simply can't communicate all these new needs and commands. Finn's sweet disposition now seesaws between curious cherub and petty dictator.
OPERATION CRY-PUNCH
Like a page out of my younger brother's handbook (he probably has one), my son has resorted to the most mind-numbing torture possible.
Let's say Finn and I are playing, and he happens to use his incredible superpowers of "inevitably almost knocking me unconscious" with something or by giving me a Scottish handshake (read: headbutt), if I say: "Ow" or "Ouch" or "Watch where your swinging your headmelon there, Finn", thus showing the slightest bit of pain, he loses it. The waterworks start and he runs to find mom.
Last I checked, I'm pretty sure if anyone deserves to be crying after having a fist grenade lobbed at him, it's me. Nope. Finn reverses it and with a flick of a tear duct, he's managed to make ME feel bad about HIM getting upset about hurting ME. Then I get to do the mansplaining to my wife about how he's fine, I'm not fine and everything will be fine after my concussion subsides. WTF.
THE SECRET WEAPON
But I've got the upperhand. Want to know how? Well, here it comes, kemosabe.
I can read. Kinda.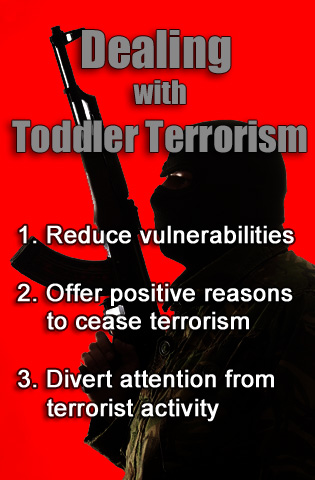 Terrorism and toddlers. Same difference.
That's right. I went straight to the source when it comes to executing flawless counter-terrorism tactics: the websites for the FBI, the CIA and Homeland Security. I researched techniques for dealing with terrorism and local acts of tyranny. And I found some pretty useful stuff on handling people employing brute force and fear to forward their political motives, not unlike my son. They used great buzzwords like "containment" and "engage". It made me feel safer already. Why didn't I think of learning about parenting from these guys before?
I know. I know. I'll probably have a few dozen agents show up at my door asking me to explain myself after I publish this, so maybe this can serve as my farewell letter instead?
After reading their literature, perhaps it's not all bad though…
Maybe he's just a revolutionary whose goals have been misunderstood? The Boston Tea Party, The Underground Railroad and The Great Math Class Fake Cough-Fest of 1998 were all employed against terrible regimes while under suffocating oppression. I imagine he's just testing my parenting limits. Threatening to poop in the tub during bathtime is probably a form of peaceful protest somewhere. Right?
I guess, for now, I'll just chalk it all up to my son "going through a phase" and he'll return to being his sweet, sweet self…
…you know, like when the economy turns around.
Subscribe to our weekly newsletter on the sidebar here or GO HERE