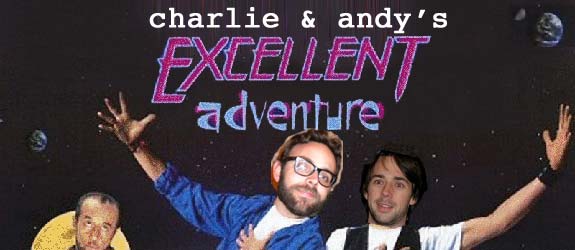 Tomorrow, Andy and I will journey to our first official mommy blog conference. Why are we going to a mommy blog conference when we obviously don't have visible women-parts? Well, I'm glad you asked.
We have no idea.
But it'll be our first roadtrip, taking "How To Be A Dad" for a spin in real life to see if we can't scare everyone away, one awkward hug at a time. We intend to be as loudly masculine and aggressively flatulent as possible, leaving no stone (or wine bottle) unturned. We hope if you're in the San Diego area that you'll come over and say a proper "hello" to us. Or even a "get out" and "security!!!!", if you see us.
In light of the recent attention we've been getting, especially with Andy's graphical "genius" on our Instructional Diagrams, I'd like to point out the intense jealousy and anger I've harbored about them. I bleed real blood for my posts and then he comes in, after we've had a creative session about an "instructional", and in 6-8 hours of minor, half-interested busywork he churns out "masterpiece" after "masterpiece". You guys seem to love it.
Two can play at that game, sirs and madams. I present to you my own "diagrams" if you will.
Suck it, Andy.
Instructional Diagram:
CHARLIE & ANDY'S BLOGHER 2011 TRAVEL SCHEDULE
::click an image to enlarge it::
STEP 2:
Arrive at the Convention Center. I'm super excited about getting to San Diego here. Andy is communing with nature.
STEP 4:



Return home alive. The easiest way to carry excess luggage or friends is on the roof.
STEP 1:



Pick up Andy. Here's me calling to Andy to come down. It might take a minute.

STEP 3:



Mingle with bloggers. A blog conference is a great way to meet new people. Unless you're blacked out like Andy.
You want more?
How could you want more Instructional Diagrams after
that
!?!
Twitter is where the action is going to happen while we're blogher conferencing, because if we did it on Facebook everyone would unLike us or hide us in there feed.