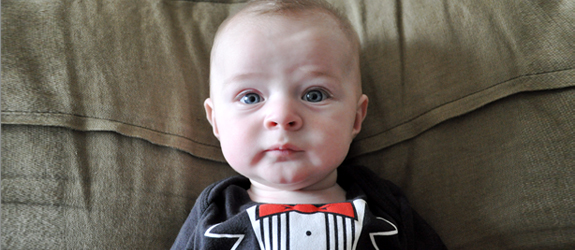 I'm sitting here. It's 2am. I was going to write something completely different for our Monday "Notebook" post, but suddenly while eating my son's cookies, it hit me.
I've eaten all of my sons cookies.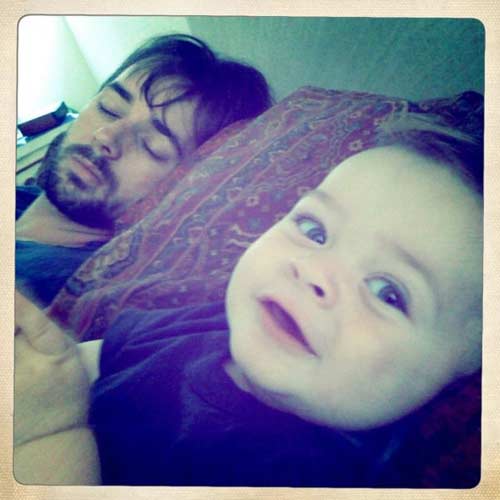 From the look in his eyes, you can tell Finn is working on his latest "sculpture".
Actually, that won't hit me until later this morning when I go to pack his lunch.
No, dear readers, my mental train was derailed (read: "deranged"), so let's ignore my transgression for the moment and talk about something a bit more lurid than me stuffing 83 gluten-free animals in my mouth. And for the record, that is not a euphemism.
Recently, I had an acquaintance ask me to lie to her spouse. We'll call them Ben and Mary, to protect the guilty. Mary wanted me to tell her husband that "parenthood is an easy, super relaxed" ordeal. It's proverbial cake. She went on to say that I was one of the few men she knew who looked like he was having a good time raising a child and not one of the more frazzled, frumpy dads she'd seen all her life. Ha! Fooled her!
I told her I wouldn't lie to Ben.
I'm a pooper. He's a pooper. Wouldn't you like to be a pooper, too?
As you may well know, each parenting experience is completely unique from the next. More importantly, no child and no parent are exactly alike in how they coalesce. I couldn't damn well tell him some glossed over Norman Rockwell tale in good conscience because that wasn't exactly the case for me and I wasn't about to throw any father-to-be under the baby bus. She was very eager to start having babies and he didn't feel ready, which I can totally understand. Not every dude is built to want babies the moment they finish puberty. It means loss of their youth or their manhood. To some guys, it means the end of era for them… what a crock of shit. All of that.
I've always rooted for kids. They usually get the shaft: not tall enough, not quiet enough, not achieving enough, not enough quarters in their pockets to play the game. The idea of fathering a son or daughter, while I couldn't have said whether I would do it well, I certainly knew I wanted to be that man. Having a child doesn't have to equate to cutting your balls off and sticking them in a jar. In fact, it can mean quite the opposite. It also doesn't mean "keep being that fraternity asshole you've always been" either. It's an opportunity to be or perhaps further become a better man, a better teacher. Or at least just becoming a better diaper changer, or manservant.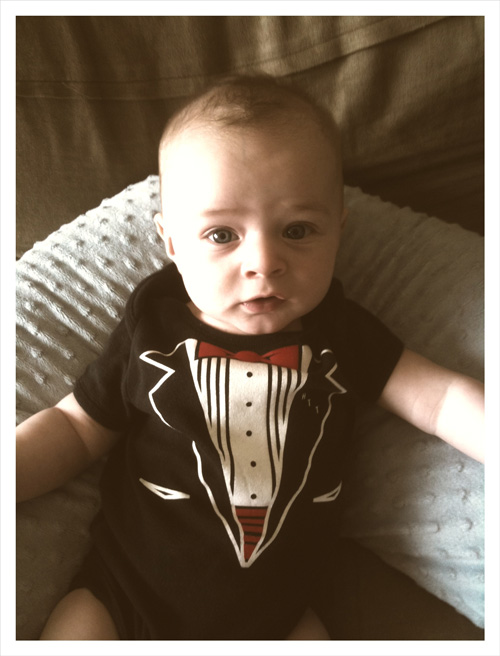 "Bonjour, may nehme iz Feen. I yam yoehr pupe consee-erge."
Ben then came to me, as if we were in a romantic comedy script, and asked if I could tell Mary how hard it was to care for a wee babe so she would back off a little. I said I couldn't do that either. How could I spout off my rough experiences and ruin their fantasies of storks and giggling bundles? Who says everyone has a tough time? But I replied, out of fraternity, that I would have her accompany me while I changed one of Finn's noxious poop-splosion diapers and maybe that would unlock the crank on the baby vice grip she had on him, if only to hold her off for just a little bit.
Well, by the time we were finished I'd done my job. We closed the diaper, she picked him up and my son managed to pitch half a volume of throw-up on Mary. After that she was content with holding my son and playing with him, but only for short periods of time. The best kind of birth control had been put in place: THE SOILED DIAPER.
Author's note: These two may or may not have had babies already. An author never reveals his sources, unless blackmailed or bribed. I will accept bribes. Definitely bribes.