What's up Party Parents?!
We've got some more crazy from the internetz, just for you. I mean the internet, which, as my dad used to say, is mile-wide and an inch deep. There's gotta be something mildly interesting on here, right?
I present to you, How To Be A Dad's "Fatherhood Fridays" #5: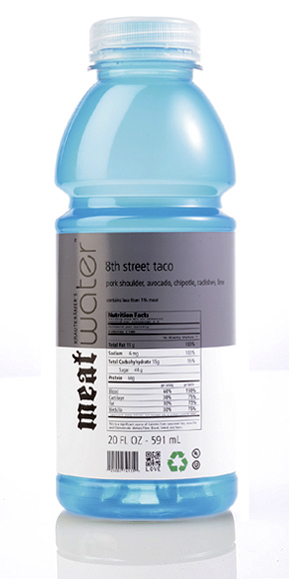 You need a high-protein drink that can also induce vomiting.
1. Meat Water: Yep, It's Real
I know "nutritionists" loudly tout getting electrolytes as the most important thing in life. But they were wrong.
It's all about protein. Drinkable protein-tasting water like the kind made by a company aptly named MEAT WATER.
Meat Water could've shoved a cheeseburger into a Vitamin Water bottle and I would've drunk it, but this company went the extra step. They made water have the subtle taste of an Hungarian Gulash or a Tandoori Chicken. Need a quick salmon salad? Drink it up. You can't put a price on an experienced palate like theirs. This is a carnivore's wet dream.
Then we hear: "You need to be eating more protein." Little do "they" know, you should be drinking more protein water. Meat water. I hear models and actresses constantly say, "Oh, I eat pizza and pork loin and junk like that." Now we know what they really mean. They drink it.
Who wants to join me for a liverwurst sandwich chugging contest?!
Learn about Meat Water: CLICK HERE!
I always wanted to be reincarnated as a tree. Now I can, suckas!
2. Bios Urn: The Taking Tree
Becoming a parent, you're suddenly confronted with your own mortality. How long will I live? Will my child be taken care of after I'm gone? Who will come to my funeral? Will some hipster kid relieve himself on me one drunken night when he can't find a bathroom?
Um, well, maybe not that last one.
But now you have the option to think about that last one because you can BECOME A FRIGGING TREE with the Bios Urn, a biodegradable coconut-based receptable for your ashes after you die.
Essentially, once you kick the bucket, you have your ashes packaged in an eco-friendly urn. Next a seed fuses with your fertilizer remains and it's planted. The next thing you know, the circle of life becomes a figure eight and you're living the good life as a leafy monument. You can also choose which kind of plant your remains will grow to be! Bonus!
Forget headstones and mausoleums, become a tree: CLICK HERE!
Found something AMAZING & want to share it with us? GO HERE!
FOLLOW US ON STUMBLEUPON: GO HERE!