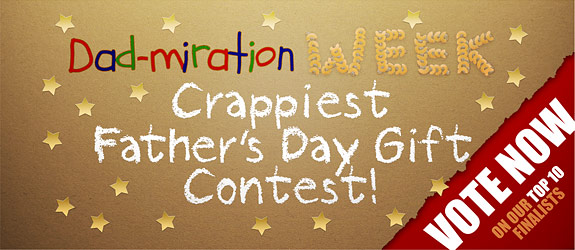 This week's Dad-Miration Week Contest was pretty successful by our standards. Honestly, we were thinking it would be "crappy" just like the gifts people were describing… But it wasn't! You guys came out and shared your stories. Without further ado, here are the finalists. We will reveal your winner Sunday!
So, let's get this voting started (at the bottom of the post) and win some StarBUCK$ with a $25 Starbucks card*.
*Note: Starbucks is not sponsoring this contest or its prize. They probably have no idea what we're doing and more than likely have no desire to be associated with HowToBeADad.com. Although we partake of their product, Charlie isn't allowed inside certain branches of Starbucks due to an incident involving a boombox, spandex and a chinchilla. While Andy drinks so much coffee from them and their competitors, he is practically a stockholder.

::DIM THE LIGHTS AND HERE WE GO…::

1.
When Heidi was 7, she got so mad at her dad that she wrote an IOU that said "i-o-u nothing..u-o-me a new dad" and then gave him a rock from outside.


2.
Sarah tells us that their 10-month-old son gave her husband a wicked case of pink eye in both eyes for Father's Day. (HTBAD Note: NEVER! EVER! Under any circumstances Google Image search the term "pink eye." EVER!!!)


3.
Russ gave his dad a Grandfather's Day card for Father's Day on accident. This mistake was compounded by the fact that his dad was also going through a mid-life crisis.


4.
On Father's Day, after a "private moment" together, a psycho girlfriend from college told Ed, "Happy Fathers Day, I'm not on the pill anymore!" Luckily for Ed, it was not the gift that kept on giving with nutjob girlfriend, there was no pregnancy.


5.
Thomas once bought his dad a handheld massage device from a Dollar Store. Later in life, Thomas came to realize it was a sex toy… which explained the blank stare his dad gave him. The gift that keeps on giving.


6.
Matthew says he once got a box of orange Tic Tacs from his 6-year-old. It had a card that read 'Your breath is bad.'


7.
Last year Laura's brother sent their dad a "Happy Father's Day" message on Facebook. That was it. (Not even a poke to go with it.)


8.
Morgan says she knows of a life-size Edward Cullen (of Twilight legend) cutout given as a Father's Day gift. Ooh, Sparkly.


9.
Emily gave her dad paperclips once. The way to a man's heart is though inexpensive and mundane office goods.


10.
Matt gave his dad bacon-flavored toothpicks. We thought this was kinda rad at first but then he said "You'd think it would be awesome, but you'd be wrong."

HONORABLE MENTION
(We knew this one was pure fiction, but we also knew it was pure genius.)
By
@ieatmykidzsnack
"One Father's Day we blindfolded my dad and led him outside. We were kids so we didn't realize we needed to guide him and he fell. After he came to we untied the blindfold to reveal a brand new Jaguar in the driveway with a giant red bow around it. Once he untied the bow, two doves were released into the sky but we quickly shot them down because each dove was carrying a box from Kay Jewelers. Tears streamed from my father's eyes but he didn't kiss us. Why didn't he kiss us? Doesn't every kiss begin with Kay? The reason this was a bad gift was because we stole everything and blamed it on him. He's still in jail. Happy Father's Day."
VOTE HERE: Which is the CRAPPIEST Father's Day Gift?
IOU & Rock (44%, 63 Votes)
Personal "Massager" (13%, 19 Votes)
Psycho Ex Mind Job (10%, 15 Votes)
Orange Tic Tacs (8%, 11 Votes)
Pink Eye (7%, 10 Votes)
Facebook Book Message (6%, 9 Votes)
Edward Cullen Cardboard Cut-Out (6%, 8 Votes)
Paperclips (4%, 6 Votes)
Happy Grandfather's Day Card (1%, 2 Votes)
Bacon-Flavored Toothpicks (1%, 2 Votes)
Total Voters: 143

Loading ...