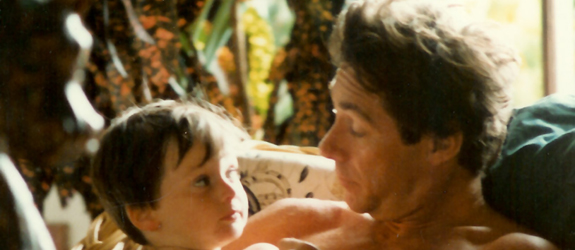 My father was the prototypical radio DJ/writer parent. A mild bohemian and anti-establishment renegade (in San Francisco — really?), he was a professional at both charming and pissing people off, especially his employers. Dad also felt it necessary to explode our pre-pubescent ear drums with blasting music. The house was a reverberating subwoofer, night and day. Much like the deaf people we might one day become, he probably thought he could hear the music better, if he physically felt it.
My parents separated when I was rather young but, as a matter of record they were never married so when they had my younger brother and I, they just cemented the fact that we're a ghastly bastards. Dad did his best to look after us, when he did. His birthday presents were generally odd or esoteric. Hostess donuts. A weird Chinese toy of unraveling paper. Transgendered-looking babushka stacking dolls. And, as my brother will also attest, every time my father looked after us while my mother was away on business, we reaped the benefit of a ton of future stories.
One Spring day, in Seventh Grade, I was waiting for him to pick me up on the curbside at school. He was late, as usual, and I waited for a good 30 minutes. I was just preparing to do my two mile walk home when there he appeared, putt-putting up the school driveway in his old Volvo. I was relieved because the man, for all his finest points, was a 'forgetter' and today he had not forgotten. Or perhaps he did forget and then had an "ohshitimsupposedtopickupcharlie" moment. In either case, he made it and that made me happy.
He parked midway in the school driveway, next to a median at a slight diagonal, not giving a flying funk how other traffic would get around him. As he began to get out of the car to call to me, I squinted my eyes to get a better look at him. Thank God I was already heading over to the car because I noticed as he got out of the beat-up vehicle, which was between us, his hair was sopping wet and his wrinkled shirt was drenched. I was 15 to 20 feet away as he rounded the front-end of his car.
He was wearing just a towel.
"Sorry I'm late," he said with the verve and swagger of a person not quite in his right mind, which he usually wasn't. Dad almost looked like he was enjoying how nonchalantly ridiculous he was. "Dad, get in the car. Let's GO!"
Just then I saw some friends of mine exit the school building. I executed my best RIOT POLICE PUSH MOVE. If you don't remember, Middle School is one of those horrible ages when parents embarrass you just by talking. My dad had just won the Olympic Gold Medal of Dad Embarrassment. "Dad let's go. Come on. Let's go. Let's go. I'm serious. Come on."
Now, to really know my father, you have to understand that he liked going slow when people wanted him to move fast. It was his trademark move. It probably had nothing to do with him being high 95% of his waking and sleeping life. He reveled in going slow and yelling at people to "cool (their) jets." He was loud when the prim people around us were silent. He stuck out like one of the Blues Brothers in a fancy restaurant.
My father died almost six years ago and I dwell on his choices, his lack of decision-making, his search for something he never could quite articulate. Being a father now myself, I have so many questions about his behavior, about mine, about how I was as a child from his vantage.
I cite that moment of terror now as one of only a very few that shaped my lack of shyness, my sheepishness and catalyzed a desire to push myself as an artist. As an actor, I've played some very flawed people with abandon and openness because of him. Who could retain their modesty around constant experiences like that?
But we laughed and played and enjoyed each other so much. Our singular style of humor and inside jokes is now an endangered species. My brother and I try to keep it alive. But I can only hope to embarrass my kid(s), as my dad did me.