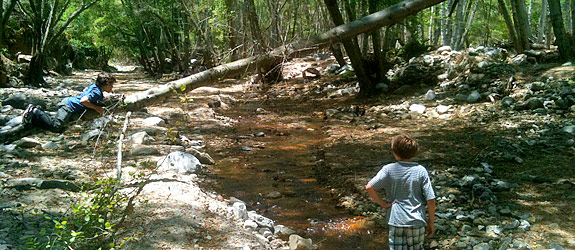 The older boys, Max and Cody, and I headed out for a hike on the weekend.
About 5 minutes in, the blazing eye of the sun microwaving my neck reminded me that I didn't bring any sunscreen. But, as I explained to Lizzie later (as she applied aloe), there is a difference between forgetfulness or lack of preparedness and a manly decision to brave the elements. That or stupidity. But I'm gonna go with bravery since I'm writing this.
I always like to pass wisdom on to my boys. And when I'm short on wisdom, I try to compensate with "experience." So of course I decided to knock a pod off a cactus so we could see if it was fruit we could eat.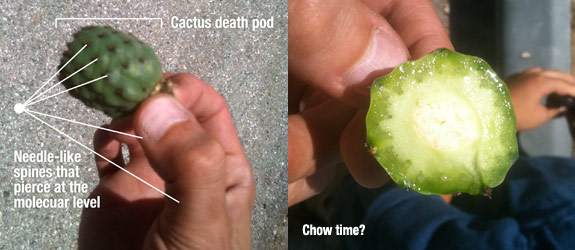 Cactus "fruit" death pod experiment results:
1) These things smell like those awful miniature alien cucumbers at Thai places. Not edible, except maybe by tribes that also eat fire ants and super glue.
2) The clusters of "fuzz" on this cactus are waaaaaaay more effective a defense mechanism than the big spiky variety.
3) Using your teeth to remove the tiny daggers from your fingers and hand is moderately effective, but it will result in a warmth in your mouth and throat before the real discomfort sets in.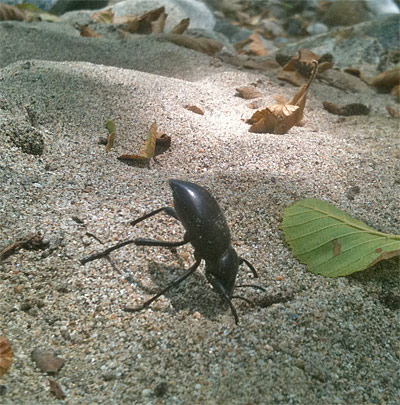 "I hope this isn't the part where my unfamiliarity with Nature rears its head, like your up-turned ass, and I'm suddenly sprayed with something."
The trail was a trail. I won't bore you with descriptions of unremarkable nature, which, no matter how hard you like to hug trees, there is quite a bit of out there. We didn't discover an orchid that can restore 20/20 vision just by staring at it, and we didn't witness a wolverine dramatically defending its young against a rabid pack of chipmunks, either.

Stopping for lunch, the boys and I sat on a log in silence. A humming bird announced itself with a flicking shadow at our feet. Randomly, I turned to them and said, "If a humming bird stops flying for more than five minutes, its heart will explode." I answered their big, shocked eyes with laughter. I know, I'm terrible. But they can be, too. Read on.
As I'm packing up, the boys are off somewhere communing with nature. I hear Max call out, "Daaaaaaaad." Which I know means Cody did something. Bad, of course. Running up to me, Max announces that his brother just peed on him… that they were off peeing in the bushes and Cody peed all over him… which was visibly evident… at this moment I was doubting the honor and pride of fatherhood.
I looked at the wet spray on Max's pant leg and I just kind of shook my head to myself. Oddly, Cody really has a problem at his age now with Max or anyone seeing him naked, but apparently he has no problem with whipping it out so he can let fly on his brother.
I just kept shaking my head. The call of nature can turn out to be wilder than any parent ever wants to imagine.

Click here for more Notebook posts.
Click here to go Home and start fresh.