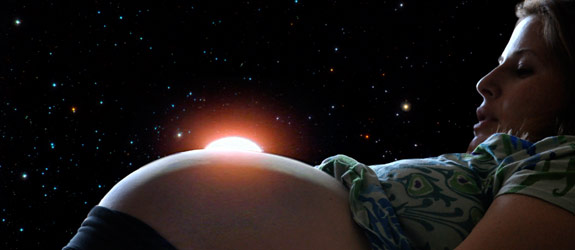 To read Part I of "Dude To Dad: A Birth Story, click here!
"Okaayyyyyyyyy…" I said, answering her statement about her Niagara loins.
You can't contain Niagara Falls. Image by NiagaraFalls.info
Then she was silent and I mean really silent. Honestly, I wasn't sure if she spoke or not, because over my heart rate and the sound of running water (sink, not her privates), I couldn't hear a damn thing. Following that kind of quiet, you're not really sure there's a response that makes sense. Half of you wants to ask if there's something you can do; the other half wants to make a joke. Either way, there isn't a PERFECT thing to say.
So I went the classic guy route: "Whatcha want me to do?"
She whispered that she wanted to hang in the bathroom a bit and needed a minute to collect herself, mentally. I peeked open the door just to make sure she was safe, but mostly out of disbelief. There she was sitting with her underwear below her knees covered in liquid and looking as pregnant as ever. And then the moment hit me harder than anything in my life: this was actually happening.
We called our families first and then the doctor. Our doctor, of course, was scheduled to possibly go out of town that weekend and when I left a message on his phone service, it alerted me that an associate would receive the calls. Since it was 9:45PM, I figured I could still reach someone fast.
I got the call about 15 minutes later and while the associate was very patient with me, I could tell he felt he knew something I didn't about this whole process and he instructed me to keep an eye on things. So there it was, the pat answer, everybody.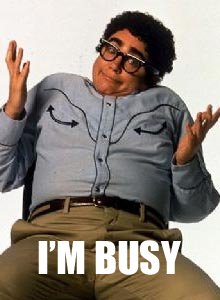 Whoop. There it is. And by it, we mean a non-specific answer. Like Pat's gender.
As an aside, the pat answer is something I detest. It's a robo-response to a living and breathing question. Trust me, I know people freak out during childbirth. It's almost a given for any doctor, nurse or their staff to contend with. I can just imagine the stereotype where a pregnant woman is heaving and screaming and shredding bystanders' clothes with her fingernails, meanwhile the father is barking at people or fainting or looking white as a ghost. But we weren't those people. We'd tried to be as educated as possible. I spoke in a calm, forthright, sensible tone. I didn't need: "Just keep an eye on things" followed by a hang-up because someone was in the middle of "Lost" TV marathon or sharpening his scalpels in the garage. I needed, "Tell me what's going on and I'll tell you what I think."
To make things more interesting, we called our doula and she said, "Why did you call the doctor at all?" All I wanted to say back was, "I get it. I'm stupid. I promise I won't make any more phone calls until after the baby is born. Thanks."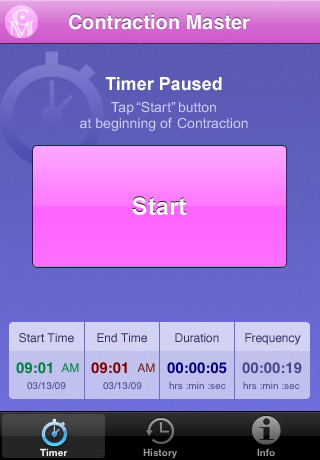 Birthing Classes + iPhone app = EXPERT, duh.
But let's fast forward… we waited for two and a half hours. We monitored contractions with my handy iPhone app and based on my birthing class knowledge as well as a boy scout merit badge in obstetrics, I knew my wife was in ACTIVE LABOR and now entering TRANSITION. Now, this didn't match up to any rough estimates of timing, but all the signs pointed to it being true. I watched my wife go through each stage of labor myself.
I called the associate once again (the one fielding the messages) because Avara kept saying she felt like she needed to "push" and he said, "Well, if you feel you need to go to the hospital, then you should go." Sounds great, Dr. Helpful.
Then, I called the doula again, while my wife moaned and cried in the background. I even emailed her the timing of Avara's contractions from my iPhone app and went over them in detail. The contractions were textbook TRANSITION timing. Instead of offering to do her actual job and check Avara's progress, our doula told us to 'chill and wait it out.' I decided we needed to leave. Now.
So, in between telling my wife not to push, I began gathering our things with one arm while the other was holding her up. Once we were ready to go, I told my wife that it was time to leave, finally.
"I'm not getting in the car, Charlie. Forget it…"
(To be continued…)
Check out our related Instructional Diagram! An indispensable tool for the birthing process.
READ PART III, the finale of the series!
Sign up for updates, so you don't miss cool stuff like this!
See more Notebook posts to continue the adventure.