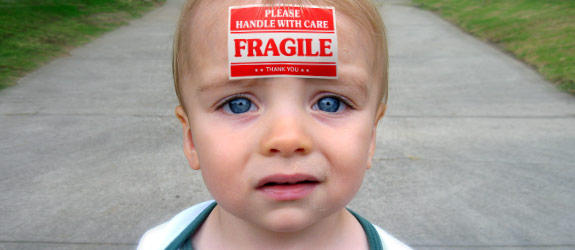 I'm alright with some basic baby proofing. For those of you without babies (and a low IQ) this has nothing to do with birth control.
Cabinet locks are great for anyone who doesn't want their kid freshening up their breath with Raid bug spray, sure. And some stick-on foam for the sharp corners of a coffee table can be a great deterrent to your child growing up with the nickname "One-Eyed Willie," but one can take it too far.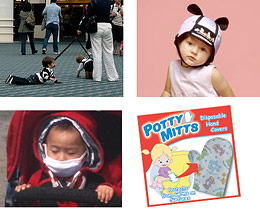 Leashes: Pets are great, especially when they're kids? Helmets: look at how happy she is! Potty mitts: potty training is easy when you add putting gloves on to the process. Face masks: uhhh…
Baby face masks, padded head gear, potty gloves, leashes, bottle padding, anti-strangulation shoelace pouches or homing-devices just sound like someone needs a cup of chamomile tea and some time to rethink things.
When Lucas first started crawling, Lizzie presented me with knee pads she had bought for him. I stared at them in poorly disguised horror. They were lime green. After she said something about protecting his knees, she may have made some comment about them matching an outfit, but at that point I don't think much was registering.
Look. I was an adventurous toddler; never wore shoes, climbed trees, hung from clothes lines, fell from broken clothes lines… good ol' days stuff, where men were men, and kids were, too.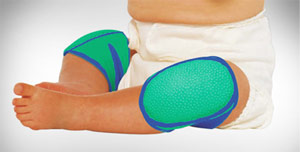 Oh the horror.
In a daze, I felt the nubby rubber surface of the pads and, being as supportive as I could, I told her that if she bought Lucas a helmet, we were going to have some serious problems.
The day she finally got around to strapping the things onto the lad, you cannot know my relief. She set Lucas down on our hardwood flooring and he proceeded slip and slide all over the place. Dramatically so, like a car peeling out on ice. He gave up and started crying. She took them off right away and held up a finger that said, "Not one word! I'm a first-time mother and it was worth a shot! I care about our son and if you care about your life you won't say anything!"
I love her dearly, and am a big fan of staying alive, so I kept my face even and my mouth shut. But, it may be the only time hearing my son cry made me happy.